Duxford Flying Legends
Summary
The Duxford Fighter Collection

is hosting at least four big oldtimer/warbird events every year. The most prominent of it, called Flying Legends, is probably the biggest event of this kind in Europe, at least in terms of numbers. It's only here that you can see formations of 7-8 Spitfires in the sky

This being said, Duxford is not a perfect place for photography - with runway 06-24 and public on the north-western side, you're shooting against the sun most of the day. It also doesn't have many single-ship displays, focusing mostly on the various formation fly-bys, including the famous "Balbo", where you can see almost all the present aircraft in one massive fly-past.
In purely photographic terms, I consider Ferte-Alais and Hahnweide events better. Not even just in terms of photo conditions, but also variety - they cover broader spectrum of aircraft (non-military oldtimers and older warbirds), while Duxford is focused primarily on the WW2. Still, if you feel like getting something out of that massive roar of Griffons and Merlins - read on

NOTE While the article concentrates on the Flying Legends airshow, most of the information here can be applied equally to the other recurring events:
website

for details.
Getting there
Duxford is situated ~50km north from London, few kilometers south from Cambridge. It's relatively easy to access by most means of transport.
By car
Unless you have some special pass, your entry to the show is located at the A505 road

, near the town border. You can get there either from M11 motorway, taking left on the Exit 10 roundabout

or from the south-west, following the A505 from Baldock.
NOTE: when arriving from S-W it is not possible to turn directly right into the entrance. You have to go to the above roundabout anyway and come back, together with the big airshow traffic coming from the M1.
Once you get in, you will be placed in one of the queues

in order to purchase a ticket - all while still seated in your car! Then, the main parking area is conveniently located between Land Warfare and American Air

halls, allowing easy access to your car during the show.
Once the main parking gets full, the reserve one, on the other side of A505

is used. Despite lots of traffic, the organization is generally good and cars are moving smoothly, especially if you take it easy and don't run into the rush hour just after the final display.
By plane
Duxford is nicely located in relative proximity of two of the London's satellite airports: Stansted

and Luton

. You have plenty of low-cost carriers flying there, some of them (like Easyjet) actually having their main bases.
In the airport, it's most convenient to rent a car (all major companies are present there). If you don't feel comfortable driving on the left - take the train to Cambridge (it takes ~30min from Stansted, runs everyhour and costs £11 one-way). Then, use the free shuttle bus mentioned below.
Every year I've seen quite a lot of private aircraft parked on the other side of runway - presumably, there is some possibility to get there with your own, check with organizers if interested.
By public transport
Duxford doesn't have lots of connections to the outside world as such, besides, the IWM is actually on a side of the town, barely within walking distance from the centre. However, during the show days, there is a (free) shuttle bus service provided from the Cambridge train station

.
As usual, always check the "getting there" page

on the organizers' website for any up-to-date information.
Accomodation
Budget hotels nearby
My favourite way of sleeping when going to Duxford (and in general, to the events in the vicinity of London) is to get a room in some nearby budget hotel. Two most popular networks are Travelodge

and Premier Inn

. Latter is considered higher quality, but still entirely "budget".
Both networks have establishments near to both airports and around Cambridge. Examples:
Note: these hotels are often conveniently located in the highway surroundings, allowing getting out within seconds. However: keep the directions in mind

as the exit will be mostly one way, so you may end up having to go around several kilometers not when you expected it.


As a side note: the show organizers recommend checking out "Visit East Of England"

website for finding accomodation.
Camping
Quick Google search reveals quite a few nearby camping places - examples:
Usually, you can expect to pay £5-15 per car and per tent per day
Timetable
Friday
While Friday is not a regular show day, the museum is open as usual during the week (10am-6pm). This brings some really good photo opportunities for a) all the arrivals through the day and b) possible rehearsals, which take place in the late afternoon - which is just perfect, considering the airfield layout! There is also way less people, so absolutely no problem for finding a good spot. Only disadvantage: you have to leave the area when the museum closes, even though there may be still some action going on. Just stick to your spot until the firm but friendly guards approach you asking gently to go.
See official page

for regular museum ticket prices - normally, £16.50 for an adult.
Saturday-Sunday
Flying Legends is not a full-day show - it lasts only around 2pm-5pm. Still you are advised to get there way earlier, as, even with moderate amount of public, the windshield effect is very strong there. In practice, in order to get a nice spot you need to show up at 8AM and stick to it through all the day.
There is of course some minor activity before 2PM - late arrivals and pleasure flights, mostly with various variants of Moth and a T6.
Actually, the show starting in the afternoon is a good thing. By then, the sun moves to your right hand side and as the demos progress, it becomes more and more photographic. In particular, once the show is over, it gets quite reasonable

Seriously though: it's definitely worth to stay a bit later, as the best photos in Duxford are the ones that you are able to take after the show! In particular on Sunday, it's almost mandatory to stick to the fence as long as there is still something about to depart - you can shoot all the guest aircraft in a perfect, moody evening light, some of them will even make a fly-past before leaving.
Most of the "sunny" photos that you see on the right have been taken at the very end or even after the show.
Photo opportunities (public)
As already mentioned, the showground at Duxford is not very well laid out. Entire center part is occupied by various kinds of hospitality chalets and VIP zones, leaving only few spots for the public. Actually, even from there the views are not really perfect, as the whole dynamic parking is placed right in front

Interesting thing about daytime shots at Duxford is: good weather is bad weather and vice-versa

When it is nice and sunny, you are likely to end up with mostly gray silhouettes against the sky. But, when it gets cloudy, cold and rainy - it's when it gets interesting, as a) the overall contrasts will be smaller and b) you may have a chance for some nice background in the air.
The traffic at the show is almost always from the left (both takeoffs and landings). Then, all the rolling aircraft pass close to the public along the crowdline. Runway is relatively far from the public, typical full-frame takeoff shot needs roughly 500mm.


With all the above in mind, it's still perfectly possible to get useful shots in Duxford, it just takes a bit more creativity than usual

Western side
Overall the best area for photograhy is the western side of the crowdline

. By the time the show starts, the sun is not far from the display axis and, as you have most of the action on your left, it's not that bad. Following spots are worth mentioning:
Other spots for dynamic show
As mentioned already, there is not that much free space in the middle and eastern parts of the crowdline, because of chalets and dynamic parking. Yet, I've found at least two possibilities:
Far left end of the showground. On the very very end of the spectator zone, you will find a small square-shaped area with unobstructed view to the runway. Surely this will be only for landing aircraft and you will be shooting the show against the sun most of the day (way more than elsewhere), still, if you want some nice panning shots of landings, this may be an interesting place for you.

Gaps in the parking. Sometimes, there will be a small gap left between the aircraft parked in the flightline. Alternatively, some of the planes will be simply low enough to allow some shooting "through" - my favourite ones are the two silver Ryans, usually stationed on the right of the flightline All these tricks require relatively fast AF, but should be doable with a bit of practice.
Attractions on the showground
Museum halls - hell, yes!, really obligatory part of your Duxford visit! Don't make the same mistake as me in 2008, when I spent entire day not being aware of a SR-71 Blackbird some 50m away You should visit at least the American Air Museum and the AirSpace Hall Also, the Land Warfare Hall is very interesting, even if not quite from the aviation point of view.

I've found other halls not as interesting as above and, considering that a) seeing them all takes time and b) sometimes entrance is paid extra, I usually just skip them. See this PDF file for more information directly from IWM.

Flightline walk. It opens sometime in the morning and lasts until around noon. I tend to completely skip it too. Despite the advertisements, you are not that close and personal with the aircraft but rather within small distance and with the sun always in front of you. Even worse, during the quiet pre-show time, there are often people (crews, press, friends of organizers, or God-knows-who) hanging around behind the barriers, spoiling the photos.

If you want good shots of the flightline it's easier (and free ) to just shot the aircarft during the show, with just a small telephoto. Besides, by then you have better lighting already.

Static exposition in the showground. There are few interesting items located just within the showground - mostly the vintage (50s-60s) passenger jest. Entrance is often paid extra, I never visited any of these. Before leaving the place, just find some time to shoot yourself a souvenir photo with the F-15 postument
Use of stepladders/windshields
Sadly, Duxford is probably the most extreme (in negative sense) place in terms of windshield usage

They beat even the Dutch

Already in the early morning, you will find lots of people attaching complex installations to the fence, some of them practically building their small enclosures there. If you are not there early enough, finding a free spot at the crowdline later may be a real struggle.
Stepladders are theoretically forbidden. Well, you wouldn't expect that the people behaving as above will obey that, would you?

Photo opportunities (other)
Gold/Platinum Friends of Duxford pass
Gives you access to a dedicated enclosure and (I'm not 100% sure of this) entry to the flightline walk. It's not really targetted towards photographers - as mentioned already, view from the hospitality facilities is anyway partially obstructed by the dynamic parking.
Public grandstand
Well, it's not actually a grandstand, but simply a dedicated place in the hospitality area that you can buy a ticket for. All the above notes apply.
Press accreditation
Duxford is famous for being extremely difficult to get a press accreditation to - basically, you need to have a record of publications regarding the event in some renowned media. Good, as this reduces crowd of "press photographers" spoiling the view

and anyway, the press spots are not any better than the public ones.
Other side
Every year there is a small group of people gathered on the hill at the opposite side of the runway, near the firefighters stand. I've never personally tried it, but according to this post on UKAR

it is allowed to be there. Of course, all the usual safety disclaimers apply, this is definitely not a place to be when something bad happens in the air...
This being said, it's probably not a perfect place anyway. By the time the show starts, the sun is not far from the runway axis and as the time goes by, it gets worse.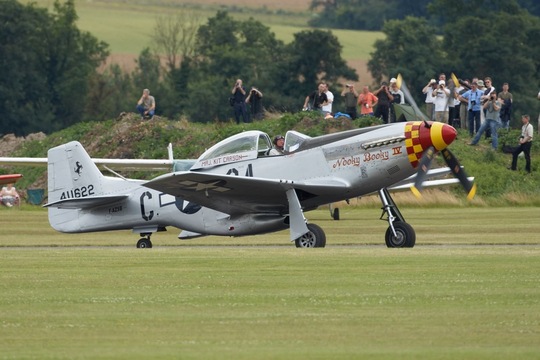 Public gathered on the 'other side' hill, Duxford Flying Legends 2010
Facilities
Toilets are rather well placed, except for the western hill area. From there, you have to use the toilet in the Land Warfare Hall, which may mean a small walk if you are based a bit further.
Food - good to very good, lots of stands with good variety of hot/cold food, snacks, drinks etc. One small complaint: already at 5PM it's often difficult to find anything more to eat, some capacity planning is apparently missing there.
Tip: if the day is hot, you can expect that cold drinks served in the stands won't be that cold any more. But... there are few taps with fresh water and it is cold

Keep one empty bottle handy and refill once in a while

Price level
Entrance
Entrance prices are quite high, but at the same time common to the large UK events. You'll pay anything between £11 and£32 for a single-day ticket, depending on your age, student status, whether you buy in advance etc. etc. Prices for 2011 are:
| Ticket type | Online | On the day |
| --- | --- | --- |
| Adult (16-59) | £29.00 | £32.00 |
| Senior (60+) | £24.50 | £26.00 |
| Student (with ID) | £12.65 | £14.00 |
| Child (5-15) | £10.00 | £11.00 |
| Infant (0-4) | free | free |
See the PDF file

at the IWM site for a full list.
Food prices
Contrary to the entrance, food is priced reasonably for the UK airshow standards (compared to e.g. RIAT) - £4.50 for a burger or £2 for a 0.5L drink. Yet, many people bring heaps of supplies, large portable fridges etc

usually combined with the windshields and other "installations" described above.
Other
You may want to check out the Foreigners Guide to Flying Legends

for more tips about attending the airshow (even if some conclusions don't quite agree with mine

)
Last updated: 25-02-2015, 21:40