Ferté-Alais Airshow
Summary
Fete Aerienne de la Ferté-Alais (also known as Les Temps des Hélices, Meeting de la Pentecôte or simply La Ferté) is one of the oldest warbird events in Europe. It takes place in the historical aeroport de Cerny, near Paris. Main bulk of the aircraft on display are the gems from the local "flying museum" of the Amicale Jean-Baptiste Salis (AJBS)

, however there are usually some external attractions too. In particular, the French Navy is traditionally very strongly present at this event - Rafales, Super Etendards and Hawkeye are not an uncommon sight there.
In terms of size, Ferté-Alais is a bit smaller than Duxford Flying Legends, but because of way better arrangement of the showground it is generally better in terms of photo opportunities. Together with Hahnweide Oltimertreffen, I consider it the (photographically) best warbird/oldtimer event in Europe.
One important non-photographic aspect of this event is the extraordinary commentary of Mr Bernard Chabbert

- definitely the best that I've ever heard, on any aviation event, in any language. It's so amusing that one can often forget to take the pictures!
Getting there
Ferté-Alais is a small town few km south from Paris. It's relatively trouble-free to get there by most means of transport.
By car
Really simple, as there is basically one entrance to the whole area. You need to get to the beginning of the Chemin des Fourneaux

and continue up via this narrow road. At some point

you will find the gates where you can purchase the tickets (if you haven't done so online). Then, few hundred meters further there are vast parking spaces

where you will be directed. Early birds can actually get their cars stationed almost at the western side of the runway.
By plane
Most convenient airport to get to Ferté-Alais is Paris Orly

. It's relatively easy to get there with few low cost airlines, in particular Easyjet

, as well as more traditional carriers like Air France

. From the airport you have a choice to either rent a car, or use the automatic Orlyval train

, that will bring you to the Antony RER station

, from where you enter the Paris public transport system.
As far as I am aware, during the airshow there is no general possibility to arrive at the Cerny aerodrome with your private plane. Of course, unless that plane happens to be some rare warbird

By public transport
If you decide to stay in Paris, the easiest way to get to Ferté-Alais is to take the RER D from Gare de Lyon

. You arrive directly at the Ferté-Alais station

, from where you have to take a refreshing 2.5km walk to the airfield. The road has a bit of turns, but it is clearly marked and anyway, you'll be following crowds of people going the only right way.
NOTE: the trains tend to be quite packed - in particular the last one, if you can afford it in terms of photo opportunities, try to avoid it.
Useful links for the Paris public transport system:
Accomodation
My preferred way to sleep when I go to Ferté-Alais are the budget hotels in the southern surroundings of Paris. However, as the airshow is being held outside any major events, like Le Bourget and, considering the touristic character of the area, it's very easy to find something good. It basically comes down to your taste and money you're willing to spend. Here I'll list just few examples.
Budget hotels
Surroundings of Gare de Lyon. The whole area in front of the station is literally covered with small, family-run hotels located in the old buildings there. Just look around on Google Maps and take a random pick. These places are usually not in the directories on the big hotel concentrators, you often need to speak French when calling, you may expect certain charme coming from the fact that they're often run just by retired couples Prices there circulate around 30-50EUR/night. I've stayed in Nièvre Hôtel and got right what I paid for. Recommended.

City centre. Thanks to the great transport system, the distances in Paris are a relative thing. What really counts is how far you are from the nearest metro station. So, how about combining trip to the airshow with a refreshing stay in the city center? Similarly to the above, in the area behind Louvre palace you'll find lots of these small family hotels, where you can sleep for 50EUR or less. I stayed at Hotel du Loiret in 2006 and wasn't disappointed.

Big hotel chains - this one can be more tricky if you use public transport, but if you prefer to stay away from the big city crowd and have your car around, it is a good alternative. Following chains can be considered:

Formule 1 - cheapest, nearest ones are: Mennecy (I actually stayed there once), Evry, Brétigny-sur-Orge and Linas-Monthléry. They are all similar, offer very basic facilities only, shared bathrooms and... well, usually cost 30EUR/night or less.
Etap - just a tad more comfort, essentially like Formule 1, but with own bathroom. Nearby ones include: Evry, Viry-Châtillon, Santeny and Villeneuve le Roi. They will set you back by 40-50EUR per night/room.
The above two are the ones I use most, but... there are really heaps of others, like: Premiere classe, Campanile, Kyriad, or even higher comfort brands of Accor group, like Ibis.

Some of these chains actually do have (proportionally more expensive) hotels in the city centre or near the RER stations - so, you may be as well OK with using public transport.
Camping
There are few campsites around - unfortunately none of them in walking distance from the airfield. They are all listed at the bottom of the Accomodation page

of the organizers' website.
B&B nearby
You may want to try some nearby Bed-and-Breakfast offers - keyword to search is 'Essonne' (name of that region of France). This page

will give you a good start. The prices may vary from 20EUR to 100EUR per double room/night.
Timetable
Ferté-Alais meeting always takes place on the weekend. Program for both Saturday and Sunday is mostly the same (subject to availability of various special guests, like Patrouille de France).
8-12h
Light, passenger flights (Ju-52, An-2, helicopters)
Late arrivals (Saturday)
12-13h
Lunch break
13-18h
The actual show
In the past (pre-2008) it used to be longer, starting already around 9am. However, since Editions Lariviere (big French media company) dropped the organization of the meeting, it is conducted mostly by the volunteers from the local flying museum association - and they can't afford to present a full-day show.
Photo opportunities
DISCLAIMER: I'm not entirely indifferent to this event - I know few people in the organization team and I'm even listed in the "contributors" section of the AJBS website. This being said, I have been always shooting from behind the barriers there, as a general public (not even press spots), so I think I'm pretty objective in all that follows.


The public area at Ferté-Alais is just a long, straight line going along the runway. It is perfectly positioned with public facing north - and also really close to the action, with the aircraft taking off some 50m away and taxiing literally in front of the public. There is also a nice forest in the background. View is spoiled only by few obligatorily bright safety-related installations on the other side of the runway.
Airplanes takeoff and land almost exclusively from the left (W->E). You can also expect the pilots to stay relatively low for quite some time, to allow all the public along the crowd line some close view of the action.
Mid-left side
As the show starts only in the afternoon, the best single photo spot is probably somewhere in the left (west) part of the place

. This way, once it starts for good, you have the sun on your rear-left and the action on your front-right.
In particular, a bit further towards east you will find a small elevated place

that allows some overview without having to stay at the crowdline. It won't be enough to get nice pictures of rolling aircraft (as mentioned above, they come really close), nor to overcome the stepladders of the people in front - but still, allows relatively comfortable shooting of the takeoffs.
Far-right side
If coming for two days, you can split them between the above places and going somewhere more to the right (east) - mostly, as far as you can get a comfortable spot, not being obstructed by the hospitality chalets and/or press areas. Ideally, try to get almost to the front-right corner of the showground

, close to the static display. This way, you can easier take different angles of the planes coming out for display - not just in terms of composition, but also lighting different from the "perfect sun in the back" common to the Ferté shots.
That right corner is actually the most crowdy place, as it's closer to the main points of interest for general public - food stands, static display and the display axis.
Far-left side
Once the show is over, there is always a chance for some early departures, pleasure flights, photoflights (for the lucky ones) or just general aerodrome activity. This is a good time to check out the western side of the airfield

again. There, with setting sun on your left, you can catch the last glimpses of the action during the day. Technically it's not a showground area any more, but, as it's reserved for parkings anyway, noone really minds if you stay there for a while.
Public grandstand
There was (again, in the Lariviere times) a public grandstand that was quite popular among the photographers. I personally never used it. Anyway, since the AJBS took over the organization, it's not provided any more.
Use of stepladders/windshields
Allowed (unfortunately). The not-so-fine tradition of "reserving your space at the crowdline" arrived in France too. Expect to have to stick to one chosen place all the day, otherwise you may find it "reserved" too. See also the general notes about ladder usage.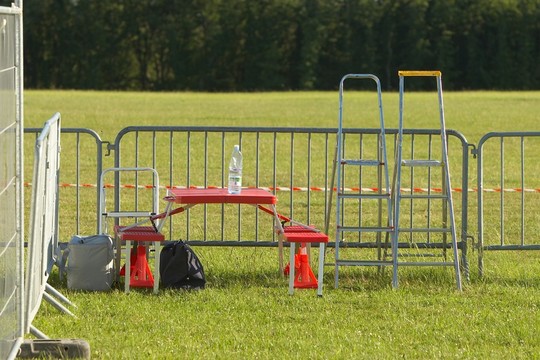 "Reserved space", Ferte-Alais 2009
Static display
There is not that much of a "static display" at Ferté-Alais, as, with few minor exceptions, everything is supposed to be flying on the show days. Therefore, organizers have decided to rearrange the aircraft parking in a way that it provides some viewing opportunities to the public. Entrance is paid extra (5EUR).
The parking is not very good in terms of photos, for few reasons. First, the airplanes are very close, almost within reach and there are no hard boundaries - so, you can expect lots of people wandering everywhere. Then, they are relatively dense packed, so you'll always have lots of foreign objects in the background. Still, it's nice if you're after some detail shots or just want to get close & personal with the aviation history.
Outside the showground
As the showground at Ferté-Alais is positioned almost perfectly, there is really not much point in looking for anything else. The whole northern side is strictly forbidden and access to the left and right parts is rather difficult, as the terrain is situated on a small hill.
When driving out of the place, you will find lots of people gathered in random places within few kilometers from the aerodrome, watching the show from the distance. This is pure entertainment, not much point in any photography, as the aircraft are very far seen from anywhere out.
Facilities
Food selection is quite good, stands are spread evenly across the showground (except of the western part).
Toilets are not particularly well placed, most of them being consolidated near the hangars and static display

, with just 2-3 of them situated at the western side

. Be sure to take it into account when planning your day.
Price level
Entrance tickets are relatively expensive, typically costing 30-40EUR/day. Keep in mind however that it's an event run by the volunteers, without much sponsorshit and they have to cover the fixed costs related to security, fuel and general organization matters.
Static display entrance costs additional 5EUR on top of that.
Food prices are reasonable though, nothing outrageous in terms of French standards. 10EUR will easily get you something nice to eat, with possibly a small drink.
Last updated: 21-10-2012, 17:06